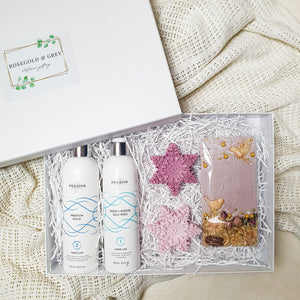 Special gift box with Elena's treatment bestselling product
Regular price
Sale price
£50.00
Tax included.
Shipping
calculated at checkout.
---
Magic box with hand crafted chocolate , organic-handmade Christmas scented snowflake soaps & the best selling aftercare in Elena's treatment studio.
ARTISAN CHOCOLATE BAR
A carefully curated selection of some of our favourite Belgian chocolate products delivered straight to your recipient's door. Full of sweet treats for the chocolate connoisseur, any chocolate lover will be thrilled, whether it be a birthday or a pick-me-up.
SNOWFAKES SHAPED SOAP
Goats milk is naturally high in vitamins and minerals and rich in butterfat's which makes it the perfect moisturizer. Vitamin E, which is the skin's best friend, is found in abundance. A creamy smooth texture that is a fabulous moisturizer and nourishing for the skin. The soap's size is about: diameter: 10 cm high: 4cm
MOISTURIZING SHAMPOO
Fills hair with moisture, makes it manageable and shiny, restores and strengthens the hair structure, especially of chemically treated hair. Relieves: dryness of the scalp, seborrhea, gives a dazzling shine and radiance. Prepares the hair for using a moisturizing mask and a protein reconstruction mask, increasing their effect.
PROTEIN MASK
Facilitates deep nourishing, restoration and reconstruction of hair. Ideal for hair damaged by chemical exposure, frequent dyeing and heat. The hair structure noticeably improves after the first procedure, the hair becomes dense, smooth, shiny and elastic. Its natural ingredients preserve the hair color intensity.
MOISTURIZING MASK
It is designated for dry, damaged and brittle hair. It immediately moisturizes the hair, makes it easy to comb and gives a dazzling shine and radiance. It strengthens and moisturizes the hair, smooths its structure, provides treatment and nutrition for hair weakened by coloring, bleaching, perms. It is used as self-care. It closes the cuticle.