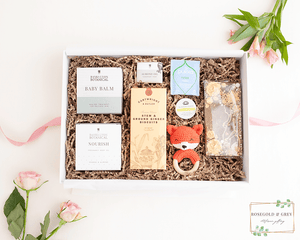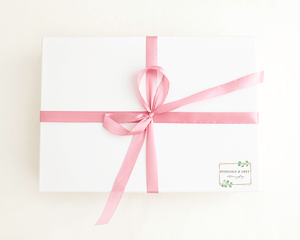 Pregnancy gift
Regular price
Sale price
£95.00
Tax included.
Shipping
calculated at checkout.
---
This gift box is filled with luxurious, non-toxic, and pregnancy-safe products for pregnancy that are focused on the mom-to-be, helping her to feel relaxed. A fantastic, thoughtful gift for any mum to be, baby shower, or hospital bag.  
Overview
-Belgium Chocolate Bar
-Tea
-Pregnancy Bath Oil
-Banks-Lyon Organic Baby Miracle Balm
- Natural & Vegan Lip Balm
-Banks-Lyon handmade soap
-Relaxation Natural Room Spray
-Fox crochet animal teether
Finest Belgian Chocolate bar with flower composition.
Full Description
-Belgium Chocolate Bar- artisan chocolate bars. This is real chocolate, with an emphasis on quality, not quantity and so suited to those who appreciate the richer, fuller flavors and reduced sugars and additives that true, fine chocolate has to offer.
-Tea: Pukka Relax tea is a unique blend of calming herbs with fantastic soothing properties. It is best drunk in the evening to release the tension of the day. Naturally caffeine-free, 100% organically grown, and ethically sourced, we hope this is the most relaxing tea you will ever taste. Plastic-free teabags.

-Banks-Lyon Pregnancy Bath Oil: A pregnancy-safe and indulgently blended bath oil containing everything you need to deeply unwind while almond and jojoba oils will leave the skin soft and nourished.
-Banks-Lyon Organic Baby Miracle Balm: 100% Natural blend of butters and oils specially formulated for babies to provide moisture and nourishment to skin. Perfect for healing small bumps, scratches, cradle cap and everything in between.Suitable for the most sensitive skin and perfect for bumps scratches and dry patches. Contains shea butter and coconut oil. No chemicals, no preservatives, no artificial perfumes and no colourants.
-Natural & Vegan Lip Balm: You'll love the emollient yet glossy feel of Bloomtown's 100% Vegan & Naturally Tinted Lip Balm, flavoured with natural berry extracts and made with the finest quality organic cocoa butter, candelilla wax, sweet almond oil, castor oil, and vitamin e.
-Banks-Lyon handmade soap:Handmade in the UK from the finest local ingredients. All our soaps are SLS, SLES, colour and artificial perfume free. We are 100% against animal testing. All our products are suitable for vegans and approved by the Vegetarian Society.
-Absolute aromas Relaxation Natural Room Spray: To help relax your body and mind before bedtime, try spritzing Relaxation onto your pillowcase for a peaceful nights sleep. Fragrance your surroundings naturally with this earthy, 100% natural aroma. Natural, vegan, GMO-free, cruelty-free, sustainably sourced, and ozone layer friendly room spray.
-Crochet fox teetherThis sweet handmade crochet animal teether is 100% Handmade. It is made out of safe materials and is perfect for newborn and young babies to pull and chew and munch! Hand wash only in warm water.  The natural wooden size: 5.1cm. The Crochet Animal: approx. 5.5 cm.Material: wooden ring, 100% cotton yarn.Available in different styles and designs as well.