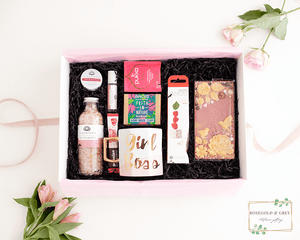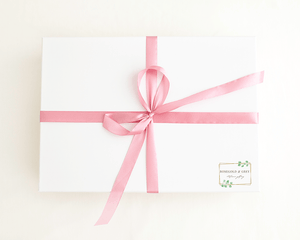 Girl Boss
Regular price
Sale price
£70.00
Tax included.
Shipping
calculated at checkout.
---
This classic white gift box with natural shredded paper is full of high spec luxury items.
Overview


Belgian chocolate bar
Boss Lady Mug
Roll-On Infused Oil - The Rose Garden

Bloomtown Pink Himalayan Salt Soak

Gourmet Marshmallow
Natural & Vegan Lip Balm: Red & Berried

Faith in Nature Natural Blue Cedar Hand Soap Bar

Coffee stick
Tea

Full Description

This beautiful, deep white box with natural filler and light pink tissue paper creates a deluxe gift.


Belgium Chocolate Bar- artisan chocolate bars. This is real chocolate, with an emphasis on quality, not quantity and so suited to those who appreciate the richer, fuller flavors and reduced sugars and additives that true, fine chocolate has to offer.
Roll-On Infused Oil - The Rose Garden: Skin-loving plant oils nourish skin without clogging pores, perfect for smoothing dry patches and applying to split ends, too! A gorgeous modern rose balanced with not-too-sweet white florals. Expertly Hand-Crafted in Cornwall
Girl Boss Mug: 

Creative Tops "Ava & I" Octagonal 'Girl Boss' Ceramic Mug by Creative Tops, 450ml (15¾ fl oz)

This quirky ceramic mug is finished in blocks of cream and pastel pink. The phrase 'Girl Boss' is printed in a loopy gold font.

Not suitable for microwaves or dishwashers. Made in the UK by Creative Tops
Belinda Clark Gourmet Marshmallow - Handmade 100% Natural Raspberry - Vanilla and Chocolate - Salted Caramel Marshmallows
Natural & Vegan Lip Balm: Red & Berried: You'll love the emollient yet glossy feel of Bloomtown's 100% Vegan & Naturally Tinted Lip Balm, flavoured with natural berry extracts and made with the finest quality organic cocoa butter, candelilla wax, sweet almond oil, castor oil, and vitamin e.
Bloomtown Pink Himalayan Salt Soak - The Rose Garden. 

Turn bath time into the ultimate pampering experience with our mineral-rich, beautifully scented Pink

 Himalayan Salts, enriched with vitamin E.
Coffee: All about the flavour, that's what makes Beanies unique2 calories per cup, Gluten, Wheat & Dairy Free, Sugar-Free, Nut Free, Suitable For Vegetarians And Vegans
Pukka Love Tea: Love tea is a unique blend of fragrant herbs with fantastic soothing properties. Drink Love tea to help you feel cherished and well-nourished, night and day. Love tea is 100% organically grown and we hope this is the best rose blend you will ever taste. Plastic-free teabags.
Faith in Nature Natural Blue Cedar Hand Soap Bar:

Faith in Nature range of handmade hand soaps each have an individual characteristic and benefit. No matter what you are looking for you can be confident that you are using the best that nature has to offer. Products are made using the highest quality, naturally derived, cruelty-free ingredients, with 100 Percent natural fragrance.


Box size:35,5cm x25cm x 11,7cm